Mesh Belt Dryer
Author: Admin View: Post Time: 2013 / 03 / 21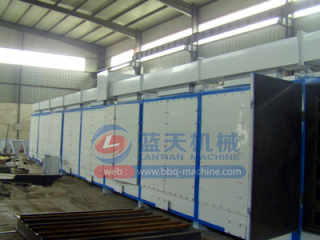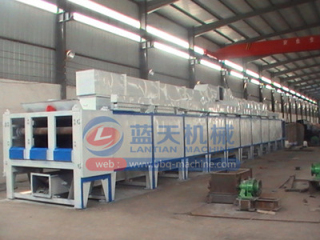 Introduction
Belt dryer is a common continuous one which can be widely used in the industries such as chemistry, foods, pharmacy, building materials, electronics, etc. Particularly, it is suitable for drying the flake, strip and granular materials with good permeability. For paste material of filter cake, it also can be dried after being shaped by granular or banded extruder.
The raw materials can be spread on the conveyor belt by suitable auxiliary mechanism such as star charging distributor, swing belt, grinder or granulator. The transfer belt passes one or several channels which consist of heating units. Each heating unit is equipped with air heating and circle system and each channel has one or several dehumidification system. When the conveyor belt passed, hot-air passes through raw materials from up to low or from low to up to make them dry evenly.
Features:
1.To get the best dry effect by adjusting air-capacity, heating temperature, material residence time and feeding speed.
2.Flexible device configuration; net-belt wash system and material cooling system can be used.
3.Most of air are recycled and energy saves greatly.
4.Unique sub-air device to make the hot-air distributed evenly so that to ensure consistency of
product quality.
5. The heat source may be steam, heat conduction oil, electricity or coal (oil) hot air furnace.
Technical Parameters
Model
LT-1.2-8
LT-1.2-10
LT-1.6-8
LT-1.6-10
LT-2-8
LT-2-10
Quality of Unit
4
5
4
5
4
5
Width of Belt
1.2 m
1.6 m
2 m
Length of dry section
8
10
8
10
8
10
Thickness of raw material spreading (mm)
10-80 mm
Temperature
50-120
Steam Pressure
0.2-0.5 Mpa
Steam Consumptionkg/h)
12-130
150-375
150-375
170-470
180-500
225-600
Area of Heat Exchange
272
340
352
440
448
560
Dry Time (hour)
0.2-1.2
0.25-1.5
0.2-1.2
0.25-1.5
0.2-1.2
0.25-1.5
Dry Capacity(water kg/h)
60-160
80-220
75-220
95-250
100-260
120-300
Amount of Fan
5
6
5
6
5
6
Total Power(kw)
11.4
13.6
11.4
13.6
19.7
23.7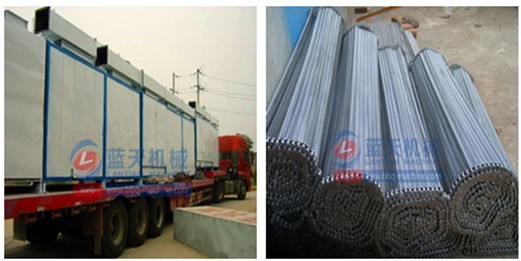 ---
If you are interested in our products , please send inquiry to our email:Alisa@lantianmachine.com
---